Se avete aperto la Galleria, è probabile che abbiate visto creazioni strepitose come ville assurde o case sconvolgenti. E spesso leggiamo la stessa domanda: come le hanno realizzate?! Per questo motivo abbiamo inaugurato i Consigli per Costruttori, offrendo ai membri comunitari l'opportunità di imparare a costruire gli strepitosi articoli disponibili nella Galleria. 
Oggi vogliamo cominciare con uno degli ambienti più importanti della casa: il bagno! Abbiamo invitato la famosa costruttrice Zita1966 a raccogliere alcuni consigli per creare un bagno strepitoso in The Sims 4. Di seguito la sua guida! 
Fase 1: iniziate con una stanza piccola. I bagni non devono essere molto grandi, anzi: più sono piccoli, più appaiono realistici. Anche se una stanza 6x3 potrebbe sembrare troppo piccola per un bagno funzionale, sarà molto più simile a quelle di casa vostra!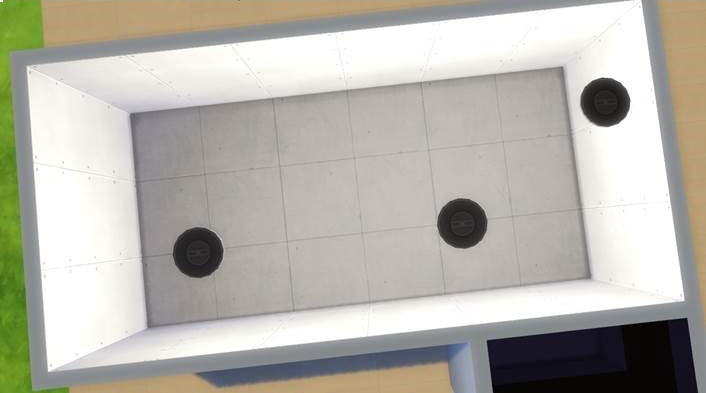 Fase 2: servitevi di separatori e di muri a mezza altezza. Una volta definita la forma, dovrete iniziare a suddividerla in varie sezioni. Saranno necessarie un'area 3x1 per il gabinetto e un'area 2x1 per la doccia. L'area 2x2 è tra l'altro abbastanza grande per una vasca da bagno. Pianificate queste aree e assicuratevi di lasciare spazio sufficiente tra l'una e l'altra. In questa illustrazione ho inoltre previsto un'area 2x2 per le piante, in modo da abbellire il bagno. A tale scopo, sarebbe perfetto servirsi del muro a mezza altezza più piccolo. Qui ho lasciato la griglia attiva, in modo che possiate vedere la struttura/il progetto della stanza. Per rimuovere la griglia, premete G sulla tastiera.
Fase 3: tinteggiate la stanza e scegliete un pavimento. Potrebbe sembrare presto, ma è importante farlo prima di cominciare a collocare oggetti se si vuole ottimizzare l'estetica. I muri e i pavimenti aiuteranno ad armonizzare l'ambiente e potrete coordinare gli abbinamenti di colore per il bagno. In questo esempio sto usando la strepitosa colorazione del nuovo The Sims 4 Un giorno alla Spa Game Pack*, ma potete usare quella che preferite o avete disponibile. Esistono opzioni straordinarie anche tra le selezioni del gioco di base. 
Fase 4: scegliete e collocate gli oggetti idraulici. Gabinetti, docce, vasche da bagno, lavandini: tutti questi oggetti devono essere collocati negli spazi appositi. Nei miei bagni preferisco usare armadietti da cucina, collocando poi i lavandini. In tal modo si ottiene un look moderno ed elegante per il bagno. 
Esistono altri trucchi fantastici per i lavandini dei bagni, come l'attivazione del trucco per spostare gli oggetti [bb.moveobjects on] e lo scorrimento dei lavandini nelle pareti collocandoli sui tavoli già presenti. In tal modo l'area adibita al lavaggio e al lavandino può acquisire un aspetto del tutto nuovo. Potete usare qualsiasi tavolo da muro per ottenere l'effetto desiderato. Il problema è che il lavandino potrebbe non essere utilizzabile nel gioco, sicché è consigliato solo se non si intende usare il lavandino come elemento funzionante.
Fase 5: personalizzate il bagno. Collocando le cianfrusaglie reperibili nella scheda Decorazioni, potete davvero infondere la vostra personalità nel progetto. E servendovi del trucco per spostare gli oggetti, potete inoltre collocarli in quei piccoli spazietti dove normalmente non sarebbe possibile.
Un utile consiglio: servitevi del trucco per spostare gli oggetti solo con gli elementi decorativi. Una volta che comincerete a utilizzarlo sugli elementi giocabili, la meccanica di gioco della stanza risulterà alterata.
E questo è quanto: un bagno perfettamente accessoriato e realistico! Potete trovarlo assieme ad altre creazioni nella Galleria sotto l'ID Zita1966. Buon divertimento con i Sims!